dmAnswers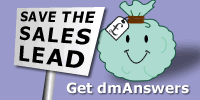 The power of dmAnswers is just four hours away
You can have dmAnswers up and running in just four working hours. So what are you waiting for: start saving your sales leads from the voicemail blues!
You need to have a dmNumber before you can signup for dmAnswers, but you can get a personal 07005x number for free, alternatively a wide range of pay for numbers such as 0800, 0845, 0870, 0871 and 0207 are also available. For an explanation of the types of numbers available take a look at the Numbers page. If you already know the type of number you want you can go straight to the Number Signup page.
Once you have signed up or if you have already registered, please login to the Clubhouse, once you have logged in you will see the links to signup for dmAnswers such as the one shown below:

What happens after you signup for dmAnswers ?
Signing up for the benefits of dmAnswers is easy. We'll have your customised professional answering service ready to take calls in virtually no time at all !
When you place an order:
As soon as you order
Your can see your account details and controls online
Within 2 working hours
You are allocated your dmAnswers number
Within 4 working hours
You receive a confirmation call from our customer service representatives
Then...
dmAnswers is ready to use