dmAnswers
The business case for dmAnswers and your bottom line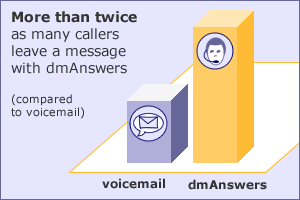 By the time a potential customer has found your number and picked up the phone, you are pretty close to winning their business. That's why it's vital that all calls are handled professionally; too many businesses create a less than ideal first impression, not to mention give away their size, by leaving the way calls are handled to chance (or, as it's sometimes called, voicemail).
dmAnswers makes sound business sense
1: New callers get a better first impression. New callers will assume that you conduct business with the same professionalism that you answer their first call. They're judging you, so don't blow it!
2: People will prefer to do business with you because you are easier to do business with. Callers never get an impersonal answersphone, and you are much more likely to get their message.
3: All this means more sales. Unlike voicemail which drives sales leads away, dmAnswers allows you to fully capilalise on sales leads generated by your advertising, leading to increased sales closure and therfore increased profitability.
4: You may even be able to charge more. By giving callers a better experience, dmAnswers increases the perceived quality of your customer service, meaning that you may be able to charge more. Remember that people are often prepared to pay a premium for quality and reliabilty, believing that they will save time and money in the long run.
The alternatives: poor (and costing you sales) or too expensive to make sense
Voicemail is fine for individual use, but for serious businesses just doesn't cut the mustard: many people don't like leaving messages, and will simply call one of your competitors instead.
So why not hire a full time secretary? Small businesses experience much more irregular call patterns than large ones. Sometimes days go by with no new leads; at other times three prospects call in a single afternoon. Potential customers, however, do not appreciate this: what they're after is professional service from a company they can depend on, and their early impressions of you will depend on how well you answer their first call.
dmAnswers is the perfect solution for the business that cannot afford of justify employing a full time secretary, but appreciates the need to give all callers the best impression. Translated into profits, dmAnswers ensures that sales leads don't get away, making it good for your bottom line.
The dmAnswers difference: before and after stories
Before Getting dmAnswers
After Getting dmAnswers

We found it hard to hold sensible company meetings, because with predictable inevitability a ringing phone would always interrupt.

We knew that people don't like talking to answer phones, so would answer anyway, but the constant interruptions had negative consequences as far as getting things decided and getting things done.

By using dmAnswers we can safely ignore phone calls during company meetings, knowing that they will be professionally answered anyway. As a result we can concentrate more easily and our meetings are much more focussed.

As the message is delivered immediately, our MD just has to check his mobile to see who's calling and why. If the matter is urgent we can call back immediately, but usually we'll respond to the message after finishing the meeting.
Every time I was unavailable or in a meeting with a client I was distracted, constantly fretting about missing calls.
dmAnswers gave me peace of mind. In the first week I get 8 messages I wouldn't have received if I'd relied on voicemail.

What's more, the quality of the messages is much better: instead of rambling voicemail messages that you have to listen to again and again just to get the phone number, dmAnswers gives me concise clear messages, with contact details available at a glance.
I used to dread going on holidays as customers might see my business 'go dead.'
Now I get texts, whenever I'm on holiday I can return calls to key customers.

When you first get dmAnswers, the scary thing is you finally discover just how many calls you've been missing!
I was having a real problem as my business was growing. It looked as if I was going to have to hire a secretary, without having the resources to pay for one!
dmAnswers provided a much more affordable solution to the problem of missing important calls.
Our business is web based, but customers missed having a phone number they could call with and a person to talk to at the other end.
Now when they call us our dmAnswers receptionist gives them that reasurring 'big company' feel.