dmSwitchboard turns your dmNumber into a powerful virtual switchboard system without having to purchase any hardware or software, you can now own your own virtual call centre ! You may be surprised to hear that there is no charge for all the features that our virtual switchboards offer you, it is an added feature provided at no extra cost on all the numbers we provide (however certain minimum usage applies for our free 07x numbers when used with the virtual switchboard feature, this does not apply to other numbers).
Our Virtual Switchboard service offers you the following features: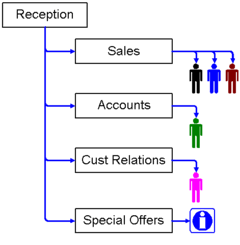 Switchboard is Free ! - Our virtual switchboard is a free add on service for our 070059, 07050 07020, 0800, 0845, 0870, 0871, 070058, 020 7 & other UK Local Geographic area code phone numbers with the exception that usage restrictions apply to the 070x numbers, if the number does not receive calls totalling a certain number of minutes in any month, a fee of £5 +vat will be made for that month, these minimum minutes of calls required are 100 minutes for 070059 & 07050 numbers and 200 minutes for 070058 and 07020 numbers. If this happens and you are not making enough use of the switchboard features on your 07x number you always have the option to change the number back to an ordinary (non switchboard) number.
Our Virtual Switchboard is Available for New and Existing dmNumbers Our free virtual switchboard funcionality can be used with any 0800, 0845, 0870, 0871, 070058, 070059, 07050, 07020, 020 7 and the wide selection of other local area phone code numbers that are available, you can enable your existing dmNumber by logging in to the Clubhouse, alternatively, if you don´t already have a dmNumber you can signup for a new number.
Easy Virtual Switchboard Setup - You can choose to have your virtual switchboard represent you as a single department which can forward all your calls or take voicemail messages with either a system generated greeting or your own recorded greeting. Or you can use your switchboard to offer multiple departments with a menu greeting such as "Press 1 for sales, 2 for Support" etc.
Online Virtual Switchboard Controls - Easy to use browser based admin and setup contol panel available online. You can also setup or ammend your virtual switchboard settings, call group and department structure, change voicemail and call divert option.
Online Setup Wizard - The online wizard is so easy to use you will be surprised how quickly you can have your greetings, announcements, departments/call groups, diverts and voicemail setup !
Call Groups - You can setup a Call Group for each department that you need, each Call Group (department) the virtual switchboard can then put the call through to up to 9 phone numbers, or simply offer information such as a system generated or personal recorded message, announcement, or can contain it's own menu for further options.
Call Routing to the UK & Worldwide - You can divert calls to any phone numbers you need to, up to nine different number for each call group. Whether the call diversion can be done for Free of whether there is a cost for the call forwarding depends on what sort of dmNumber you have and what sort of phone you are diverting to and it´s location.
Voicemail-2-Email - Whenever the a call in not answered you can have the system record a voicemail message from the caller and deliver it to you as an email attachment, voice to email has never been easier !
Provide Information - A virtual switchboard menu item does not have to be for routing a call to anyone, it can instead just give out information and announcements, status messages, e.g. "Press 3 to hear the venues for todays meetings".
Robot Voice System - Using the Setup Wizard you just type in what you want each message or menu item to say and the "Robot" will read out your messages to your callers. Give it a try, you will be surprised at the quality of the Robot voice which is far better quality than the many poor quality voice system that are available.
Upload Your Own Sound Library - records and upload your own sound files to use in place of the "Robot", the sounds could be voice greetings or other sounds or music etc.
Set Office Hours - Set your office hours for each day of the week so that calls are automatically routed either to your phones or to voicemail depending on the day and time. SO when it´s time to stop work your virtual switchboard system automatically goes on auto pilot !
Set Out of Office - As well as normal office hours you can also manually set the system to Out of Office so you don't miss calls while away from your home or office or while in meetings etc. This is especially useful for small offices or home offices where there may not be anyone else available to field your calls whilst you are otherwise occupied.
Mid Call Services - Together, a range of mid call options give you the powerful features for your virtual switchboard usually only found on a regular state of the art switchboards that require a substantial investment in hardware and software.
Call Holding - Place a caller on hold just like on non virtual switchboards.
Second Call - While a caller on hold make a second call without a second phone line, your virtual switchboard handles it all for yo!.
Call Transfer - After placing a caller on hold and making a second call you can use the virtual switchboard to transfer your caller to the other party after briefing them on the call.
Call and Message Logs - See any online log of all calls and messages that your virtual switchboard has handled including the date/time and the number called from (unless it's witheld).
Caller ID - CLI information is provided so you can see who is calling before you answer (so long as the originating network and your own supports it and it is not witheld)
Virtual Porting of Your Existing Phone - You can your existing phone number to an 0207 dmNumber and benefit from all these virtual switchboard features on calls to your existing number, please note that your existing telecomms provider may charge you for the call diversions.
Live Answering Service Option - Your virtual switchboard can be combined with dmAnswers, the professional Live Answering Service from dmClub, so that for any call group, the call can be answered by a real person, your very own receptionist for your own switchboard. The perfect way to combine virtual and live switchboard and receptionist services. Click here for more information about dmAnswers.